The Towns Botanical Gardens was planned by the Swiss engineer Enrico Fehr on request by Carlo Ruggiero (Montelone 1814 – Cittanova 1885), and was completed in 1880.
It covers an area of 26,515 square meters. It boasts majestic and imposing plants many of which are uncommon and exotic. Some of the trees are unique in Italy.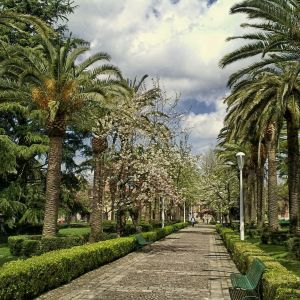 Here we find magnificent Sequoias, the Cedar of Lebanon, the Juniper of Virginia, the Roman Pine; the Holm Oak is also present. There list goes on with the Maple tree, the Platanus Acerifolia, the Tulip Tree, the Paulowinio, the Oak Rubre, the Weeping Willow, the Pagoda Tree, the Prunus and Robin's Acacia.

The Villa has been recognized as having particular artistic, historical and botanical interest. and is under the protection of the Ministry for Culture and Environment also for its naturalistic, urban and artistic value.

(translation by Martino De Marco)
---
Nativo di San Martino (Reggio Calabria) e residente in Adelaide, dove ha conseguito una laurea in lettere, Martino De Marco esercita la professione di traduttore ed interprete. Appassionato della sua "Piccola Patria" lontana, De Marco da anni ha voluto conoscere meglio la Calabria, facendo anche varie ricerche in internet.
Il primo luglio 2005 è stato presentato in Adelaide la versione in inglese del romanzo, "Valpatri House" di Nadia Crucitti, tradotta appunto da De Marco e stampata localmente in tiratura ridottissima. Il lancio di questo "atto di affetto" e disponibilità professionale è stato fatto nel corso di una serata culturale organizzata per l'occasione. Ha presentato il libro la dottoressa Maria Grazia Re, direttrice didattica del Consolato d'Italia, alla presenza di personalità del mondo della cultura, delle istituzioni e dell'associazionismo locale.
---